when kids get pyschological scars they will carry forever.
On December 6th every year in towns and cities around the Czech Republic, families will take their kids out to enjoy the Mikulas celebration. (yes, Mikulas like St Nicholas, but don't ask me how that works).
The setting is this: A father like figure, with white beard, bishop-like hat (miter?) and a shepherd's staff.
An angel (I don't get where this guy comes in, but probably to counter the devil).
A devil, darkened face, curly wig with horns, a hanging chain, and only one shoe. Job description: to tell the little kid to do better at school, stop punching his sister...to scare the kid so that if he doesn't clean up his act, he will be joining the devil in Hell.
I have heard of one kid that was crying for three days and working so hard to learn how to tie his shoelaces. Or else, that's it, Shazam! He's taken from his mother and father and will spend the rest of his eternity (a concept they know means a long time) with the devil.
And why do the Mikulas, the angel and the devil partake of this festival? For tips from parents. A way of paying for the extra muscle when the kids are not behaving or accomplishng the shoelace tying.
The funniest part is seeing the hungover Mikulas', angels and devils at around 6 in the morning the next day after they spent all their drinking money. What you thought it was just for fun?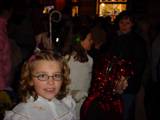 Angel

This kid is crying.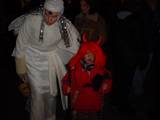 Dunno if this devil would scare anyone.


Devils calling for backup.